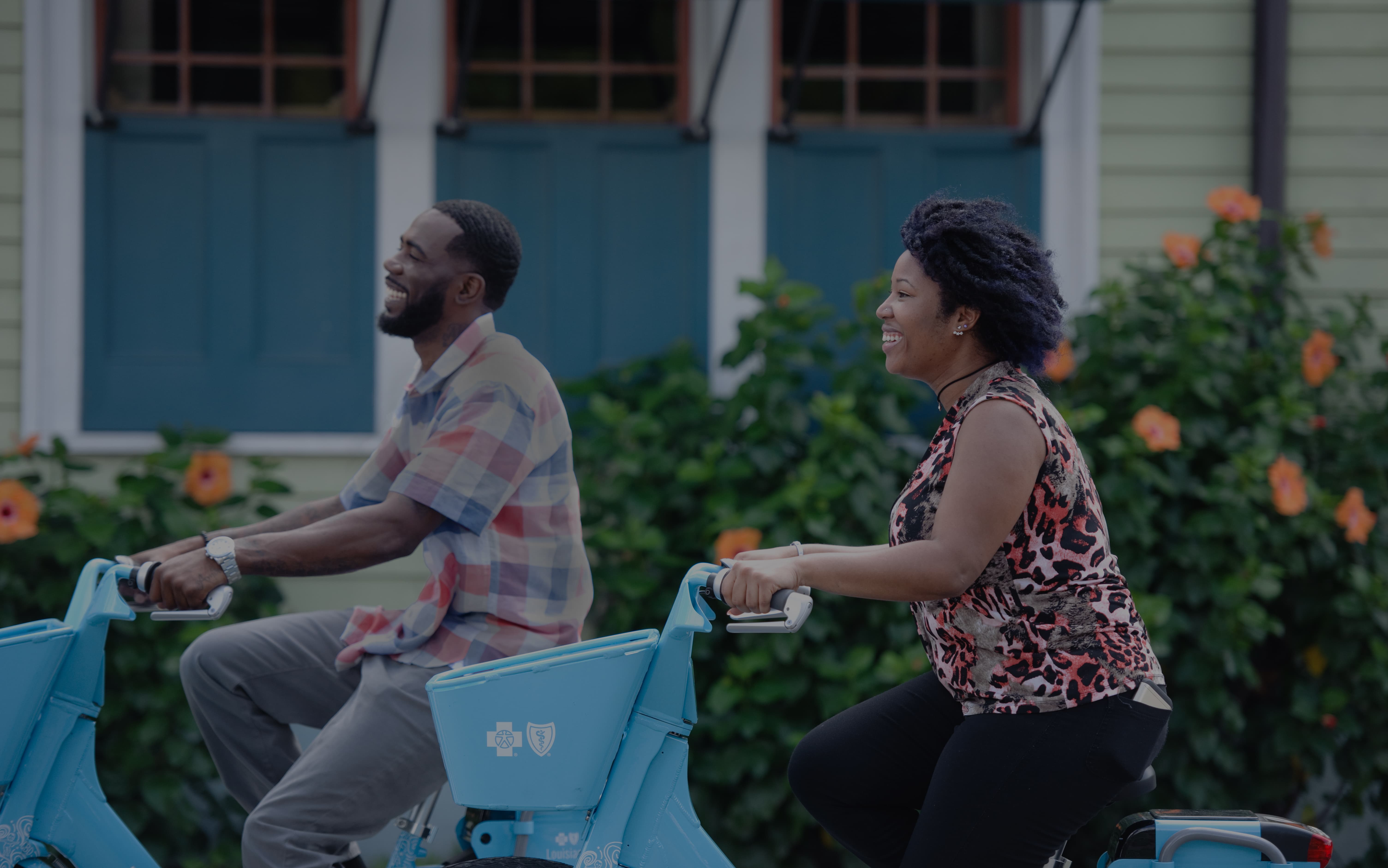 Pricing
Blue Bikes is the fun new way to get around New Orleans.
Whether you're heading to work, meeting friends for dinner, or exploring New Orleans, Blue Bikes offers a convenient, fun, and healthy way to experience the city you love.
Pay as you go
Prorated to the minute
No commitment
Monthly
Up to 60 min of free ride time per day (can be multiple trips)
$0.15/minute after the initial 60 minutes
No unlock fee (even after free time is used up)
How it works
Choose your plan and sign up for a Blue Bikes New Orleans membership through the mobile app.
Tap Scan and scan the QR code on the handlebar.
Remove the lock tether and secure it to the hook under the seat. Put on your helmet and enjoy the ride!
To end your ride, lock your bike at a bike rack. Use the tether to secure the bike to the rack and loop it over the lock. Secure the lock and then use the app to end your trip.
About
About us
Blue Bikes is an affordable bikeshare program uniquely designed for New Orleans. The Blue Bikes fleet is comprised of hundreds of pedal-assist e-bikes that make the most out of your movements, allowing you to roll with confidence on a bicycle built for you.
Bringing bikeshare to New Orleans expands transportation options for our residents and visitors at a low cost. Building quality public transit is essential to building a city for the ages.
Sponsored by Blue Cross and Blue Shield of Louisiana, Blue Bikes is a partnership between the City of New Orleans and Drop.
Blue Cross and Blue Shield of Louisiana
Blue Bikes directly aligns with the mission of Blue Cross and Blue Shield of Louisiana to improve the health and lives of Louisianians, and it is a long-term investment in the health and wellness of New Orleanians.
This program encourages healthy lifestyles and gives more people access to exercise in a way that is environmentally friendly. It also gives residents of food desert areas a new way to get to farmers markets or full-service grocery stores, so they can buy fresh produce and other healthy options. Together, these factors over time can lower the total cost of care and benefit the community.
Blue Cross and Blue Shield of Louisiana is proud to be the title sponsor of Blue Bikes of Louisiana.
Blue Krewe
Blue Krewe is a local community-based nonprofit that operates and manages Blue Bikes. Our team is dedicated to offering the Greater New Orleans region an equitable bikeshare program that is an affordable, fun, and convenient transportation option for all. Here at Blue Krewe, we believe that expanding access to Blue Bikes will benefit the entire region by catalyzing economic growth, improving community health, and increasing the use of existing transit infrastructure.
Blue Krewe was founded in 2020 Blue Krewe and received critical start-up funding and fiscal sponsorship from the Greater New Orleans Foundation. Blue Krewe's partners include BikeEasy, Blue Cross and Blue Shield of Louisiana, and the City of New Orleans.
To donate, volunteer, or learn more visit BlueKrewe.org.
Blue Krewe
Our Supporters
Title Sponsor
Operations Vehicle Sponsor

Blue Bikes Station Sponsors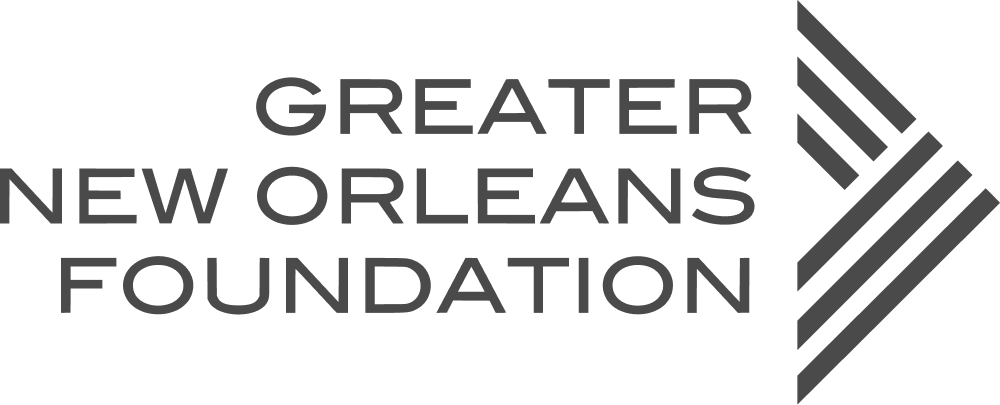 Additional Supporters


Park Respectfully
Please be respectful when you lock up your Blue Bike. Do not block sidewalks or lock to historic buildings, balcony posts, or fences.
Explore all of New Orleans
As long as you bring the bike back into the system to lock up there is no additional charge. Out of system fee (locking up your bike outside the system): $25.
Park Outside a Hub
Want to park closer to your destination? For a $2 convenience charge, Blue Bikes can be locked at any public rack or other appropriate bike parking space within our service area. Make sure to always lock the bikes to a fixed structure and end your ride in the app.
Pay as you go
Your payment method will be charged automatically based on your usage. Payments are non-refundable once you ride.
Safety
Follow the rules
Yield to pedestrians. Stop at all red lights and stop signs. Ride in the direction of traffic. Use the grip bell to signal your presence. Do not wear more than one earphone while riding. Obey traffic laws at all times.
Plan a sensible route
Plan your route before you ride to follow the safest route to your destination. You can use our app to find your way to a bike you've reserved or to a hub when you want to end your ride.
Do a pre-ride check
Adjust the seat height; try the grip bell; and if you're riding at night, check that the front and rear lights are illuminated.
Be predictable
Make it easy for the traffic around you. Don't make unexpected turns that put yourself and others in danger. Ride at a steady pace so other vehicles can anticipate your movement.
Wear a helmet
Whenever you ride, wear a helmet. Always buckle the strap. Replace your helmet after any crash and whenever you see signs of damage.
Tips for turns
Use hand signals to let drivers and other cyclists know your intention to turn or to stop. Don't turn or change lanes without knowing the position of the cars and bikes around you.
Frequently asked questions
General
What if I have questions or issues?

∟

Are Blue Bikes available in my neighborhood?

∟

Do I have to wear a helmet?

∟
Starting/Ending a Trip
How do I check out a bike?

∟

How do I find the QR code?

∟

What if I can't take a photo to end my trip?

∟

What do I do if the trip is still running on the app?

∟

Can I place my Blue Bikes ride on hold while on a trip?

∟

Can I ride outside of the service area?

∟

What are Blue Bikes Hubs?

∟
Pricing and Memberships
How much does it cost to ride?

∟

Is there a low-income option?

∟

Can I rent multiple vehicles?

∟

What is the hold amount for checking out a bike?

∟

When is the "hold" release on my credit card?

∟

Why is my card getting declined when I start a trip?

∟
About e-bikes
What are pedal-assist e-bikes?

∟

How does the motor work?

∟

How do I turn off an e-bike?

∟

Are these the same bikes we had before?

∟

What do I do if my Blue Bike breaks?

∟
Blue Krewe
Who is Blue Krewe and what is their relationship to Blue Bikes?

∟

Interested in becoming a sponsor of Blue Bikes in New Orleans?

∟

Are you a business owner who would like to be a part of returning bikeshare?

∟
Bike Saints Program
What is the Bike Saints Program?

∟

How does the Bike Saints Program work?

∟

Do I need to sign up to become a Bike Saint?

∟

Do Return-to-Hub Points roll over from month to month?

∟
Sponsors
Is Blue Cross and Blue Shield of Louisiana still involved?

∟
Become a Founding Member and help us get the city rolling again!
Click on the button below to visit the Blue Krewe PayPal page to make a donation and support bikeshare in New Orleans!
Improve your Blue Bikes ride and city when you volunteer with Blue Krewe!
As we bring Blue Bikes back to New Orleans, we will have an array of local community-based volunteer opportunities. Come be a part of our work!